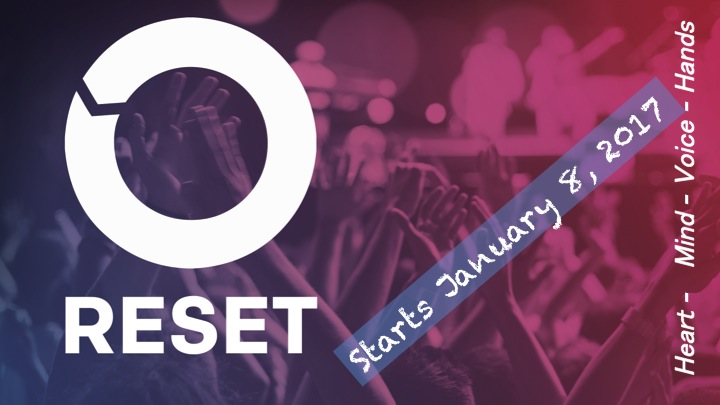 What does a RESET look like for you?
Do you feel like you're lacking significance or fulfillment?
Is there a part of you that asks, "Is this all there is in life?"
Just like you sometimes have to reset your phone or computer when it's not working
properlyor it gets stuck, you can reset your life to get it running the way
God originally intended.
Starting January 8 at 5:00pm  we are beginning a new series diving into this reset theme.
We'll go through these four weeks that will really make a difference in these areas of your life:
Week 1// "Jesus, Reset My Heart" – It All Starts Here
Week 2// "Jesus, Reset My Mind" – I Am What I Think About
Week 3// "Jesus, Reset My Voice" –Good News for Bad Times
Week 4// "Jesus, Reset My Hands" –Soul at Peace, Hands at Work
This is the perfect opportunity to invite your friends, family, neighbors and coworkers to join you and grow deeper in their faith, or perhaps encounter God for the first time.
_________________________________________________________________
Just a short drive into Strawberry Park will take you to one of Steamboats most
beautiful places. We meet in the red-roofed barn and have a beautiful pond where you
can find solitude and time to unwind. At the base of Buffalo Pass,
come find out why Euzoa means "good life" in Greek.
---
Why meet at 5:00pm on Sundays? We are an innovative and un-traditional church*
that desires to fully embrace the "Steamboat Lifestyle", while passionately pursuing God!
We meet on Sundays at 5:00PM because it:
Allows recreation (skiing, biking, hiking, etc.) on Sunday mornings
Accommodates weekend trips and camping, without having to miss church
Prepares you for your week ahead with positivity and inspiration
*while remaining true to the Bible principles and teachings
(for instance: The Bible doesn't say when we should meet, only that we should meet together
-Hebrews 10:25)